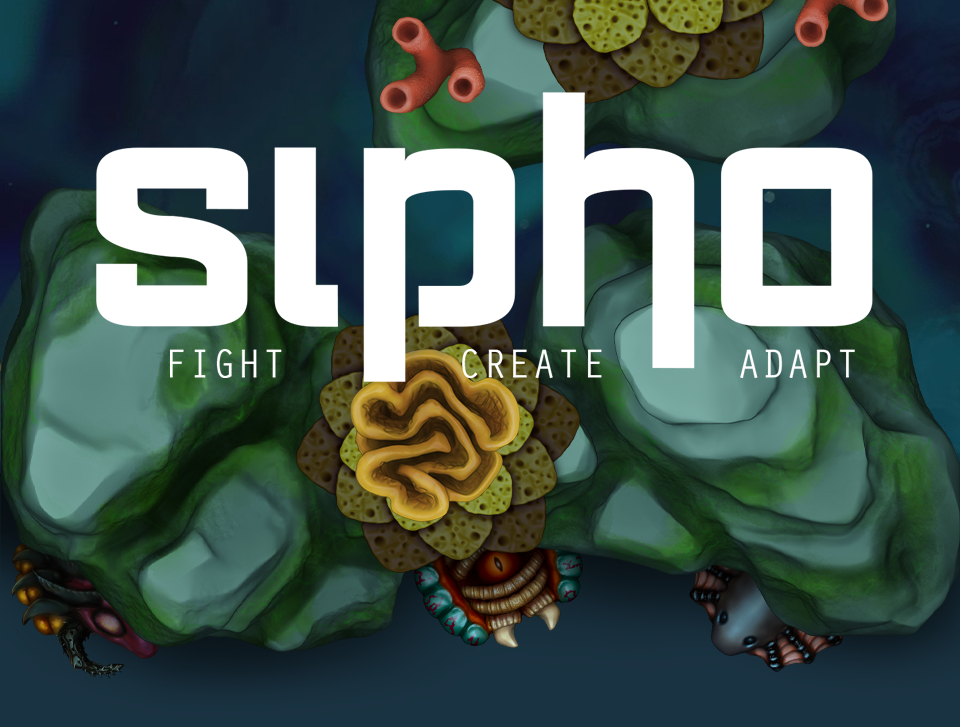 Sipho
Version 0.3.3 is now available!
---
Hi everyone!
A week has passed since Aquarium release and we cooked up a new version of Sipho.
This update has a new feature - ability to share Layouts through text string. They can be exported and imported in Layout Browser window in Aquarium. This is a small feature we wanted to make to encourage creativity and display your ingenuity in Sipho-craft.


We have also added more tooltips to Aquarium UI to help understand it better, added auto-spawned enemy size control to Aquarium and many more little touches of polish. See the whole list below:
Version 0.3.3
Add change movement type and rotate zooid in growth hotkeys
Fix missing tutorial toggle
Expose melee, ranged, movement powers to Zooid tooltips. Also display skill description
Make Layout UI button sizes consistent
Strictly control selection of multiple Layout entries in the browser
Add a null check for growing from a layout
Sipho name updated when changing the layout
Re-tweak enemy spawner settings
Give exact amount of nutrition needed for regular level enemy Layouts
Fix Passive and Reactive enemies being too aggressive
Refresh available zooids when opening Layout selection menu in Aquarium so available layouts are always up-to-date
Add tooltips to Aquarium player UI
Add tooltips to Aquarium Enemy menu
Make initial Aquarium enemy settings to be less aggressive and 50% smaller than player
Cancel dragging when un-setting mouse click action. Fixes spawning new object after last spawn was cancelled during dragging
Add import/export layouts as text capability to Layout browser
Fix zooid skills activating while in aquarium build mode
Add enemy nutrition scale option to Aquarium
And a little gift for our readers, a layout string to test-out importing:

eNqlml2LWzcQhv9KOddjodG39q53vSkUctGLEso2MYlpaoeNUxqW/e8d0fb42GeP9I4LXhw2yTMfkkajV3qe9sfz02H/ZXr45Xk6vJ8eph/2j+9//f7TYX+caPp8+nI4H07H6eF5+mt62FljLU3f5E/VcNnv8gtNj8cPn/bTg0/yN8f94cPH305PjccUyTly/u0L/ct+c376+u789WnfMVDdPwaaqQudyw3dkqMYKEYNnU2xEJ3Jk2NyQUN3JhWI7kgcTxSzhu6N/BeE7okzefkUBX4r76tRtSSOS+o1o7qV9hU8UiYnsyYp4FtZX8ETFYqWIivgW0lfwTNVcuK8JufBhADBC7GlkChoJkw0HhtRcbySt8SaxOy2nF9Nx0AseZdP1eC3vF+v1Ews7ldKTsNPxoGVoJD8S8lZUqUnG4vVAnE+yOAypUWt+fH05/5pXMWsKemCrrdVBuTNNV1qgN3GWS1ud81z+U7gVdVeBrwiohHDwKQF9kcExS2rTte/ogX2/UNxy8XZ9Y+tlth3EObt4BQGNbHvIszDk4gOy1XR6S8Uq0YOas0C+PP+8fPpiGx6qedjVROvgfVe3rKh6HqY1cS+hzBvbtb6vKjmjSKGiTvQRdYDRz7iSHigvR7ZDxsHgpObs544TCTOXHZTfWbVMweRV3XBHewxRdfnVexU1prISPLbouojiylYm50CpUTZUVb12dVkj/EjpUzFUVGd51lGjzEDiWTtiDdZNQDMJlTMQKZUSdJZdJqBM3KYhgyI+5ZyoKw62LM3cuaFDFTKTEUOsjoDwTA2yM19OYMnOW9GdFnNM3TQ+8LAy5QZEDNMnIdwQIRrySWlfWJmPXHUvCmYy6nbP+hU/egMmVk9hYZIvAGZC3N/+1ieulHiaJNTMOfyO/Ay6YlDL3HmpcYO3Cx3IId+KqBzJR002vYO5PA0YFU1ORqL7YtS8dm2ipzlR5GL2cCgf7LxDuawz7NRmY2CbeICljRUYm6CJV4JZwMjgaHokWMVRNfRJJMzmIwiSXDEXuZIUOmfnE3Cmg7JshjxxE6+vW6SFxMDaESi4CAG5DuoOmSuJoBScYuCZf44MeJUbbKzxv93GhnYkCBYlqsXW0GVLceGC2ZDYmi6t2ujoppbzhmbMBsSg7jDvg1KVdqoAbMhMbCsZSc2nKqldd4Uh9mQGOTsxV5y5nW5CiaDY95iaPOqjXv7wTvT5TLsFxF2MHS5IgZQWK68zM4xNMHQeaqMoXBhvozbEIrroMvJ0N1AFMjFOukiFaEvSkgfmfSTaYQM+kk/Qjq8NVlumv3WhHGF8GoDG1AVIuG8mYypeHN2Ke1jKq7sXQrtmIprey4aPzeSLi6o1nfWE0y9hnIs/wO62Gm6fbQm/MUu3GfmOybViBnvmP4jpr9joY6Ymi5w6zp/1TDLJk2hUNB0NFt3+bdwTzL9WgPLKvjrAvJqX5F2koJ8NAerLfV47bm0lNKxes17py3p+BYuzV0i2UOC6snQlm58Sxe/5ZMoeXD7gS9J4YYLvCOFeaCiCm+4sLwGE3EREG40UNWXYdkK1NbweghLazgS1hTxCgsKnzgQvYhjNXDcUmgqxtZF0GoCUSlU5chmNcfzzWugW7nSU6lUPVXNYXPzDuj2hY54LnuYbZqgRu/ZvAJavzUU55nkYFI1B/JNOXP92tBSlb1M+jy2QWfhdYlwbUHcjySLgAO6J+AXJQU9i+H3ORU9MeKKY3VqZL/q4kDwYgwPGry7K7A0Dt9meD1xeJmBM+GLh1L1zH7kCiJ4y1BZTxw+EFPtDllgUPmQqiGVI0pHLN+qR8Wbwv26RLVuvvXF7a2+ysSWov5KGMIPUgSTfGdVqrYE9VdsSJpCllS1WDQ2riSQgY1WyIvwxZbqju1KsRzYkBhkBXMUG0llYym6DGxIDFH27tTGpOpsXPT0roUWgXQGUSyoXttfiTz9KFoEUWZvkowlTYezpaa/YqKF0CaVJCy3BQKfSuY1Pjo4wURU/AzoMQdWaAPaaMAyckS3XFjrjk5NHJ4XcSZ+d4BHjl9ywOOjuI2BZ9HVbjZgwo9RFBJ6wNsYXEEP8KlZIaAH/JE2rp8H/C05Lp9H1kNHygbrgx8gFaGjgjQ+RLAejU8lWI7Gp/zm5Yb3pVPsUOjNhYl/BflWfvf4h/zt9NPpcDx/++7N+fDu9+nlb987+R0=
Files
Sipho Windows 32bit.zip
95 MB
Version 0.3.3
Apr 02, 2019
Version 0.3.3
Apr 02, 2019
Version 0.3.3
Apr 02, 2019